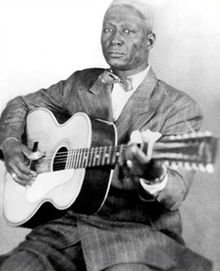 Huddie William Ledbetter:
Singer, Songwriter, Murderer;
"King of the 12-String Guitar Players of the World"
Huddie William Ledbetter, better known as "Lead Belly," got a bum deal. Was he justly sentenced to prison for murder? Twice? Was he exploited by the man who discovered him? Did he have to share credit for writing the song that became the number one hit of 1950!
This program includes a series of true stories about Lead Belly's life: why he chose to play the 12-string guitar, the events that led to his two convictions for murder, how his reputation as a prison songster led to his pardon by the governor, how he was discovered by John and Alan Lomax, how he contributed to the folk music revival and the advent of rock and roll, how his signature song—the song he used to both open and close his performances—became the most popular song of 1950, and why it is still sung today at soccer games all across Europe. These stories are interspersed with songs such as The Midnight Special, Easy Rider, John Hardy, We're in the Same Boat Brother, and Goodnight Irene.