Stories and Storytelling Programs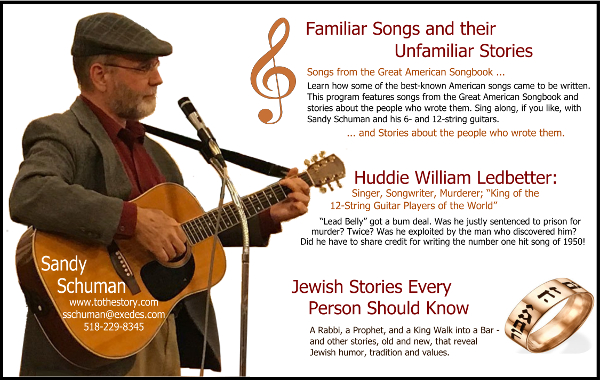 Here are descriptions of some of my stories. Click on a category for more information.
---
Discover the Roots of American Song
---
Let's learn how some of the best-known American songs came to be written and uncover their roots. This program features songs from the Great American Songbook – Oh, How I Hate to Get Up in the Morning, I Got Rhythm, Get Happy, Brother Can You Spare a Dime, It Ain't Necessarily So, God Bless America, Over the Rainbow, The Midnight Special, This Land is Your Land, Goodnight Irene – and stories about the songwriters who wrote them – Harold Arlen, Irving Berlin, George and Ira Gershwin, Jay Gorney, Woody Guthrie, Yip Harburg, and Huddie "Lead Belly" Ledbetter. Sing along, if you like, with Sandy Schuman and his 6- and 12-string guitars.

Over the Rainbow: The Real Life Challenges that Produced the Song of the Century

In the opening scene of The Wizard of Oz, Judy Garland's performance of Over the Rainbow looks so effortless! It gives no hint of the aspirations and struggles that preceded it.

George had Chutzpah, Ira Didn't!

The surprising story behind It Ain't Necessarily So, one of the most famous songs from Porgy and Bess, the 1935 opera. It was written by George Gershwin and DuBose Heyward, but they needed some help with the lyrics from George's older brother, Ira. The story begins in 1909, at Ira's Bar Mitzvah.

God Blessed America for Me

The little known but easily recognized origins of Irving Berlin's God Bless America, a hit song of 1939 and number 19 of the 365 Best Songs of the 20th Century.

And then there's the story of its most famous parody.

Get Happy

Harold Arlen aspired to a career as a singer and piano player. Serendipity led to his first big hit—in 1929—and a songwriting career that landed many of his songs in The Great American Songbook.

Watch me tell this story on Story by Story, here.

The Forgotten Man

E. Y. Harburg lost his electrical appliance business in the Great Crash, was thousands of dollars in debt, and had no way forward. Acting on the advice of his old high school buddy, he went on to write the lyrics for the Anthem of the Great Depression.

Watch me tell this story on Story by Story, here.
---
Download Familiar Songs and their Unfamiliar Stories trifold brochure here.
---
& More Musical Stories
---



Huddie William Ledbetter: Singer, Songwriter, Murderer; "King of the 12-String Guitar Players of the World"

Huddie William Ledbetter, better known as "Lead Belly," got a bum deal. Was he justly sentenced to prison for murder? Twice? Was he exploited by the man who discovered him? Did he have to share credit for writing the song that became the number one hit of 1950!

This program includes a series true stories about Lead Belly's life: why he chose to play the 12-string guitar, the events that led to his two convictions for murder, how his reputation as a prison songster led to his pardon by the governor, how he was discovered by John and Alan Lomax, how he contributed to the folk music revival and advent of rock and roll, how his signature song—the song he used to both open and close his performances—became the most popular song of 1950, and why it is still sung today at soccer games all across Europe. These stories are interspersed with songs such as: The Midnight Special, Easy Rider, John Hardy, We're in the Same Boat Brother, and Goodnight Irene.

The Rhythm Changes

In music, there are many commonly used chord progressions. This one is special. George wrote it; Ira named it. When Ethel sang it—holding one note throughout the chorus—it made her famous. You can do it too!

How to Play the Guitar

In only ten minutes I can show you just about everything you need to know to play the guitar. (Well, at least for your right hand, anyway.) When you put it all together, it can sound really beautiful. All it takes is practice!

The World's Most Popular Instrument

The Jew's harp is an ancient musical instrument known by more than a thousand names in 150 different countries and languages. It is an entrancing musical instrument that is inexpensive, easy to play, pocket-sized, and arguably the all-time most popular musical instrument in the world. I'll loan you a performance-quality Jew's harp for this workshop. You will learn to play it, and how it got its name.
---
---
Welcome to Chelm's Pond …

… where the ridiculous stories of Chelm meet the preposterous tall tales of the Adirondacks. Bloomie couldn't find the hole in a bagel. Adirondack Mendel tells the truth, even if he has to lie to do it. To Rabbi Chayim Shmayim, the solution is just a dream away. Welcome to Chelm's Pond where "every acre is two acres, you can till the soil with a teaspoon, and there are not only four seasons, there are five."

Jewish Stories Every Person Should Know

A Rabbi, a Prophet, and a King Walk into a Bar; If Not Even Higher; The Angel's Question – and more stories, old and new, that reveal Jewish humor, tradition, and values.

Same and Different: The Never Ending Story of Chanukah

Most people have some knowledge of the Jewish holiday of Chanukah. I present the historical origins of the holiday in a personal way that is entertaining and informative to any audience. It provides a new take on the ongoing struggle of people whose cultural and/or religious background is different from that of the dominant culture.

How to Tell a Story

What makes a story a story. And what makes a story a Jewish story? In this workshop we explore these questions, using illustrative stories. Next, we practice telling stories and learn what we can do to tell them better. This is a workshop for beginners—teenagers, educators, grandparents—who want to learn or sharpen their storytelling skills and who have an interest in Jewish stories.

When I Was Small

It's the end of the Shabbat service and everyone is eager for Kiddush. After all, we read Torah, heard a beautiful Musaf service, sang songs, and even heard the announcements. Anything more would be anticlimactic. And yet we insist on one more song: the old, familiar, Adon Olam. The only question is, which tune?

When I Was Small is a story about a song that tells a story about a song. It's a Jewish story with a personal connection that only I can tell, about a Jewish song that every Jewish person knows.

Listen to my recording of the song here, where you can also find additional information about the song.

Songs of My Father's

My father was a songwriter. A number of his songs have Jewish themes: Adon Olam: Past-Present-Future; When Will Our Dream come True; Say Tehillim; Was the World Worthwhile?; and more. I will sing and teach a few, introducing them with a story to put them in context. Each participant will receive a song book with the words and music.
---
Personal and Historical Stories
---
Lucky Numbers

What connection could there be between the State Lottery and the meaning of prayer? My father bet on the State Lottery and had a unique method for selecting his numbers. Years after he told me about his lucky numbers I began to wonder about their significance.

It's Hard to Tell a Hug

My mother let me stay home alone for the first time. As soon as she left I changed my mind. I put on my itchy-wool coat and hat and I tied the itchy-wool ears flaps under my chin with the itchy-wool string. And I stood there in the middle of the living room floor, waiting and hoping, a little boy wanting his Mommy.

My Father Was a Storyteller

Samuel Schuman was a songwriter, musician, poet, and storyteller who made his living as an electrician. I expand his personal and historical saga that stretches from the help wanted ads of the Philadelphia Inquirer to the front page of the New York Times, from the pleasant beaches of Atlantic City to the hectic skyscrapers of Manhattan, and from his longed-for saxophone to my sister's studio-upright piano. One of the stories in this program, published in Memoir Magazine, can be viewed here: The Silcox Decision, the Living Wage, and the Grand Prize Slogan.
---
History and Folklore of the Empire State
---



Some of New York State's folklore is truly unbelievable. Some of its history is even more so.

In this potpourri of history and folklore of the Empire State we'll learn about Bill Greenfield, the legendary Adirondack hunter, trapper, and fisherman who was "the goldarndest, most unreasonable liar you ever saw." He told lies for fun. George Hull, perpetrator of The Great American Hoax—The Cardiff Giant—told lies for profit. Two very different New Yorkers, both Civil War veterans, two types of liars. We'll learn why our border with Pennsylvania makes an abrupt right-angle turn at its western corner, an amazing story of wilderness adventuring and international tension that culminates in a startling form of conflict resolution. We'll traverse the state to the triangular cut in our eastern border with Massachusetts, the curse of Maime O'Rourke, the origins of Albany's Robert Burns statue, and other delightful New York oddities, true and tall.

To listen to "How the Empire State Got It's Western Border," as I performed it at Tellabration! 2002, click here.
Watch me on Story by Story telling the Bill Greenfield story, The Loneliest Winter.
This program, presented at the Schenectady JCC on March 4, 2018, included shortened versions of both Welcome to Chelm's Pond and Familiar Songs and their Unfamiliar Stories.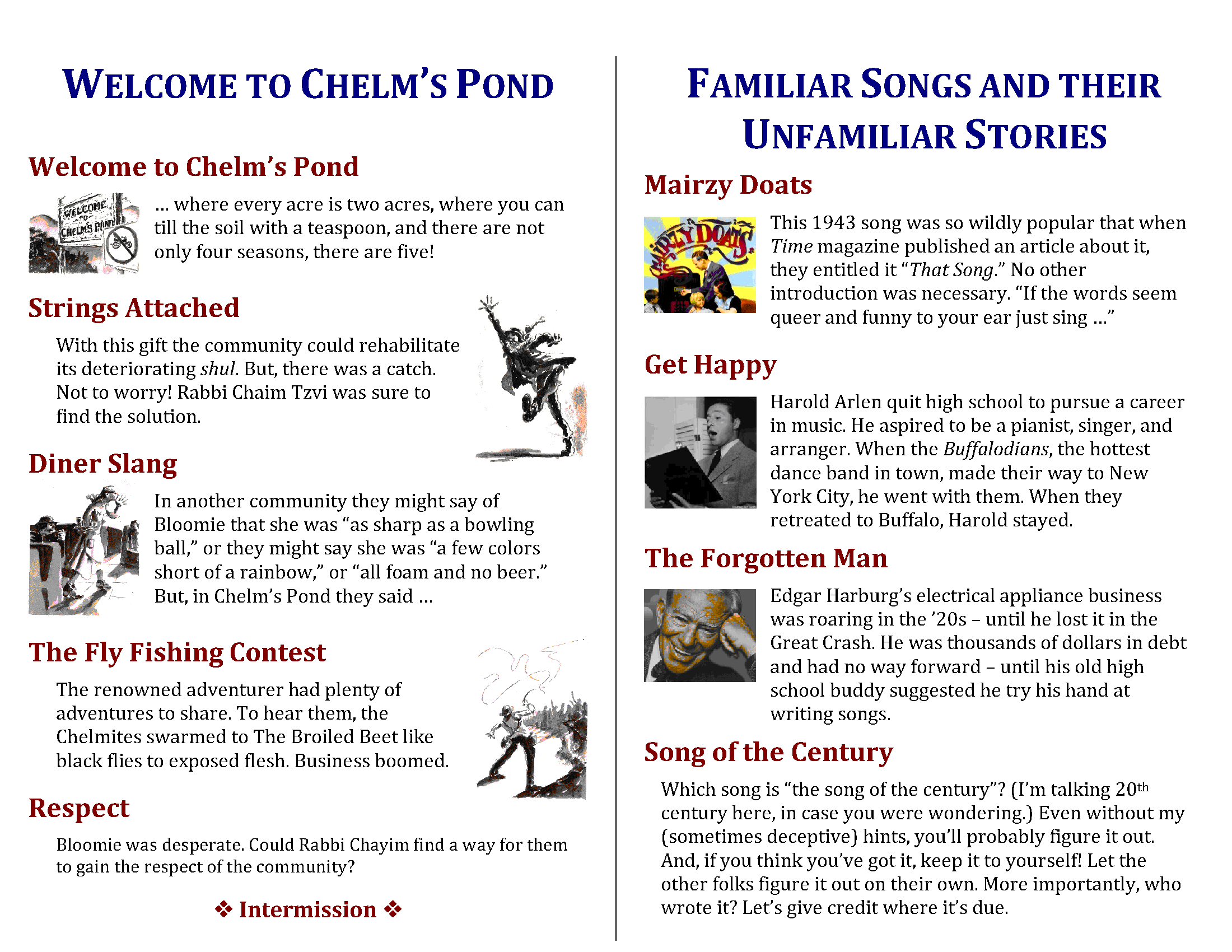 Here's a one-hour program with different types of stories – a musical story, a personal story, and a modernized folktale: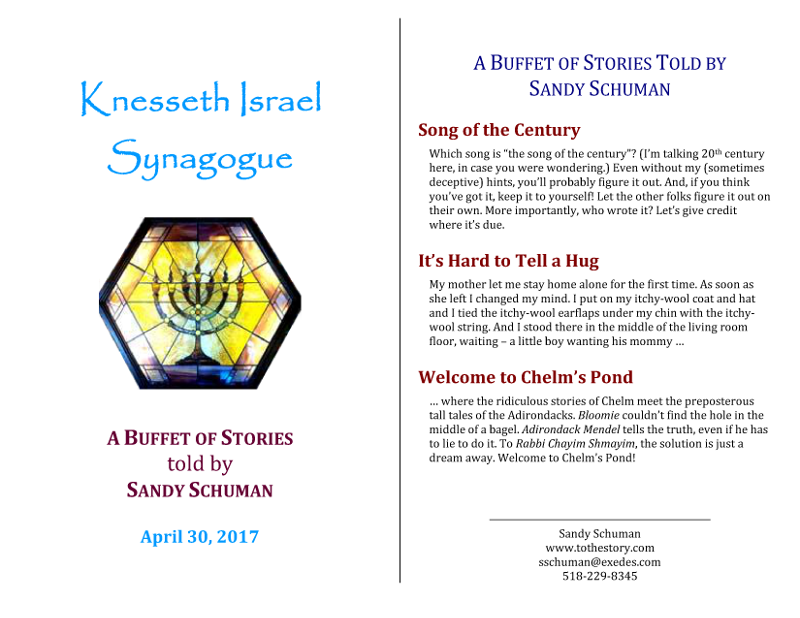 All of the stories in this 90-minute program were true/historical stories about songs, with a good measure of singing: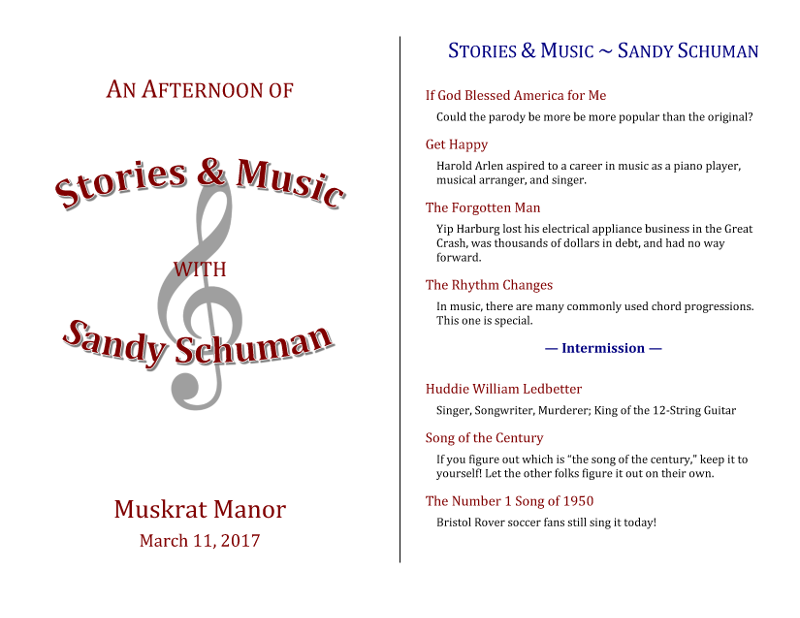 This brochure describes a collection of stories I present, My Father was a Storyteller; my book, Welcome to Chelm's Pond; and gives an example of a weekend Storyteller-in-Residence program: